Why partner with us
You have built a successful company delivering vertical expertise.

We want your entrepreneurial talent and seniority, and we want to partner with you.
You understand the demands of the digital economy acceleration, your millennial workforce, and more diverse customer needs.

We want integrated solutions that accelerate demand and success for our clients.
You value our network, channels, cases, and certified methodologies.

We offer you a flexible partnership.
You see the growth potential of selling your services to our clients and our robust omnichannel solutions to your clients.

We both know that in a global economy, those working as a network win.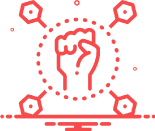 BECOME A PARTNER
We are looking for partners who are specialized in these capabilities and technologies