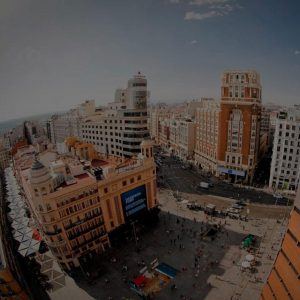 OUR MADRID OFFICE
Where everything started. Findasense started its operations on 9 May 2007 in Madrid, Spain. We are currently based on Plaza de Callao, right in the centre of Spain's capital.
At our Spain office you can enjoy excellent views over Madrid from our attic. Aside from Spanish market customers, our Madrid office works with all customers who operate on European markets, particularly the UK, Germany and Italy.
MEET OUR OFFICE LEADERS IN SPAIN
Juan Carlos Garrosa is our Country Growth Manager for Spain and Portugal. A native of Madrid, he began his professional career in 2000 in Teknoland, before continuing to acquire experience with Double You, BTOB, Cheil and Lavinia. He holds a Master's in Internet Business from ISDI and a Degree in Company Administration and Management from the CEU University.
Ximena González is our Facilities & Support Manager for Spain and Portugal. Born in Lima, Peru, she embarked on her professional career in 2013 at Algilvy & Mather, before moving on to work at FCB Global before arriving at Findasense. She holds an Advertising and Marketing decree form the University of Lima.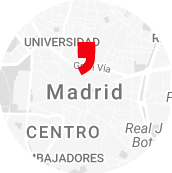 DISCOVER MADRID
Marid is the capital is Spain. Also known as La Villa y Corte, it is the country's largest city by population, with 3,182,981 inhabitants according to 2017 data. If its metropolitan area is included, the total population amounts to 6,543,031 inhabitants.
Madrid is the fourth most important city in the euro zone. It holds 10th place in the ranking of best cities to live in the world, by the well-known magazine Monocle and is in 38th place in The Economist Intelligence Unit.